Quattro for iPhone6s SP
[
FA-M-455
]
Quattro for iPhone6s SP
[
FA-M-455
]
Our Selling Price: US$218.00(tax excluded)
Prices vary according to options.
The panel is set in a stylish jacket, machined from duralumin.

The choice of 3 colors for case and 3 kinds of material (natural wood, leather, and carbon) for the back panel.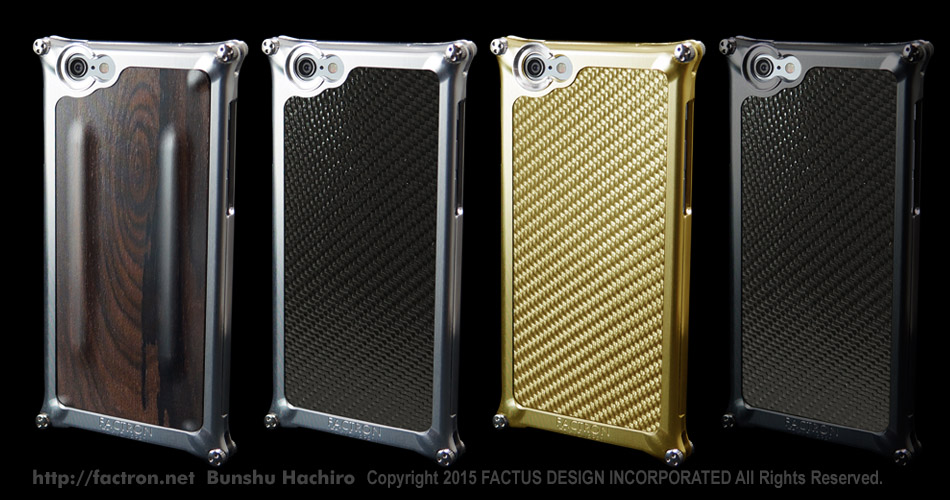 Shock-absorbing function
By our original design, this protects iPhone from shocks or impacts. The shock absorber sheet is included inside of a jacket.
This "super-elasticity elastomer" has 5 times more impact absorbing ability,compare with a common silicone sheet.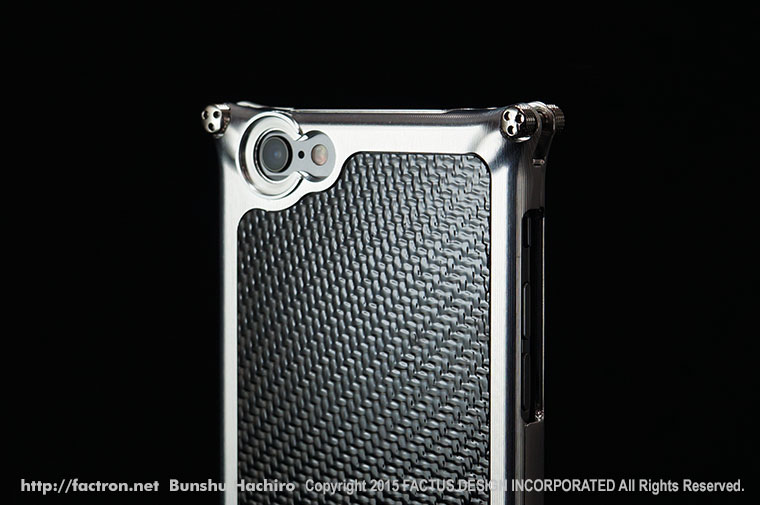 Lens exchange system
You can enjoy the photography with different lens which can change freely,
just like a single-lens reflexcamera. Many interchangeable lenses are available separately.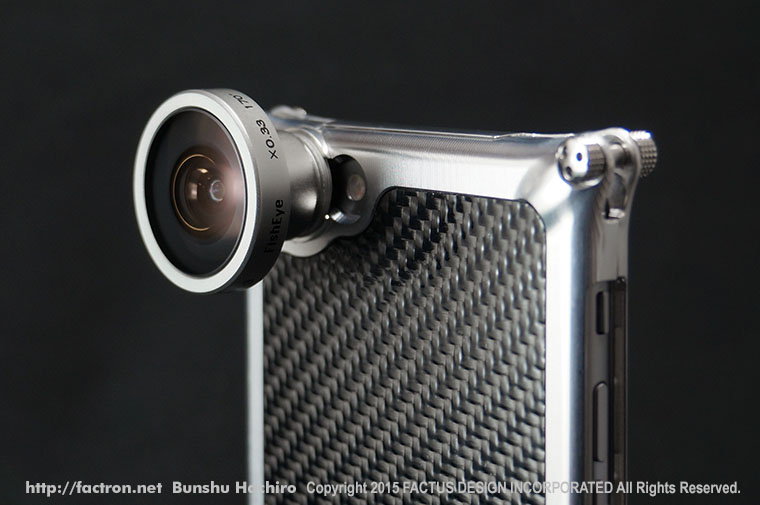 Material
The main part of a jacket can be chosen from two materials.
Duralumin A2017
Super extra duralumin A7075
A7075 has the highest intensity in an aluminum alloy, and hardness,which surface is also stronger and tenacious compared to A2017.
A2017 is a material of the usual FACTRON products.
Body material : Duralumin or Super extra duralumin (at your choice)
Screw material :Stainless steel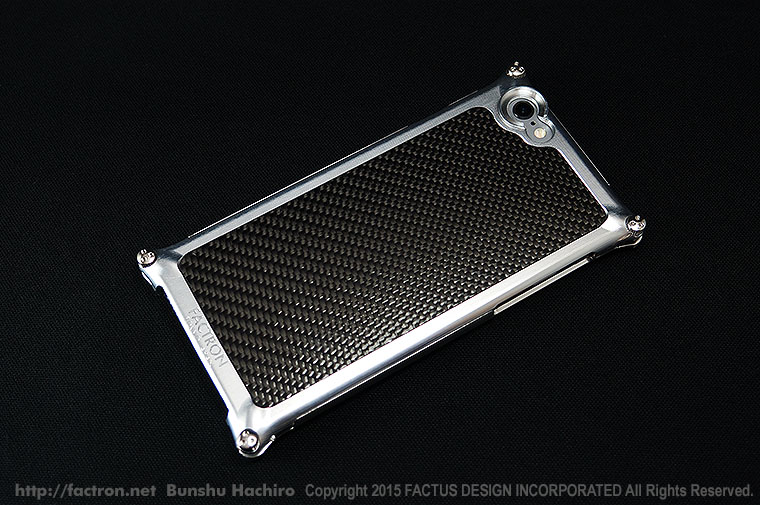 Four screws
Four screws with three holes for each are one of the most particular features of design in Quattro series.
In addition to the prominent design, there is a usability as a strap hole for each.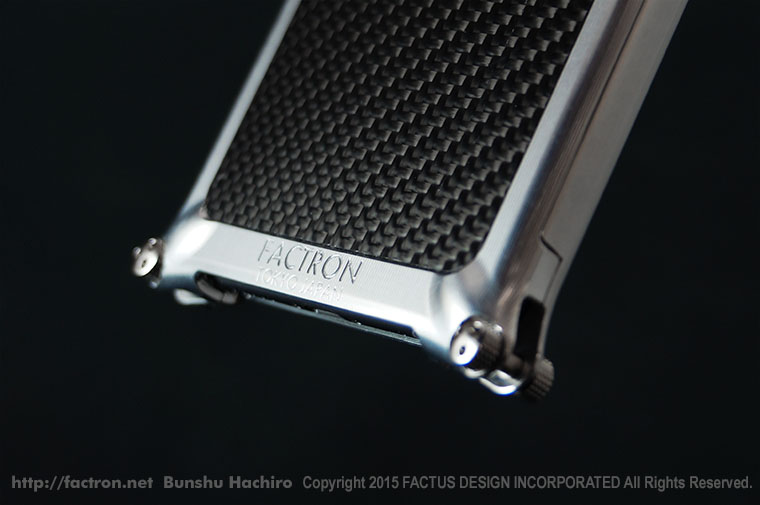 Case colors
Shiny silver

Champagne gold

Black on Black (All parts are black. )
Back panel-material and colors
Natural wood
Carbon fiber sheet
Leathe - All natural cowhide

Ciricote
IIt is rare and hard wood, used for a Buddhist altar,


a musical instrument, an alcove post, etc. in Japan

Silver carbon

Gold carbon

Black carbon

Black leather

Black crocodile

Ivory crocodile







All wood panels are machined from timber. Also, they are hand and oil finished wood panels.
※Color and grain may be different from the image because they are all natural wood.

Weight : About
Body material : Duralumin
Screw material :Stainless steel

| | |
| --- | --- |
| Shiny silver&Black leather | Shiny silver&Black crocodile |
| | |
| | |
| Shiny silver&Ivory crocodile | Shiny silver&Black carbon |
| | |
| | |
| Shiny silver&Silver carbon | Shiny silver&Ciricote |
| | |


Screws and the lens mount is silver color.


| | |
| --- | --- |
| Champagne gold&Gold carbon | Champagne gold&Ivory crocodile |
| | |
| | |
| Champagne gold&Ciricote | |
| | |

Black color can be ordered only "Black & Black carbon & A7075".

Black on Black
All parts black model.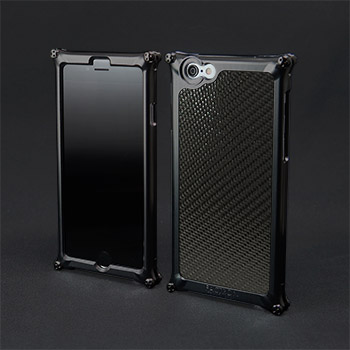 Payment Information
Payment accepted by bank transfer or PayPal.
I will ship it after I get confirmation of money receipt.
Please note that unless the money receipt can be confirmed, order will not be confirmed.


• Made in Japan
• An iPhone is not included.
• This product is not designed to protect the iPhone from shocks or impacts. Factus Design Inc. will bear no responsibility for damage, malfunction, loss, or the loss of data sustained by the iPhone through impact or through other causes.
• The specifications, appearance, or bundled items may change without notice.
• The connector section is small for structural reasons. A conversion cable may be needed when using earphones with a wider diameter than Apple earphones.
• A strap is not included.
• The product is not waterproof. Should the product become wet, remove the device immediately and wipe all parts dry before putting them together again.
• Verify that the screws are tight each time before using.
• All products are made to order, and cancellations are not accepted.
•Since the product is made from metal, wireless LAN signals and 3G,GMS,GPS may be difficult to receive.
・Before you put the cover on, if the antenna of 3 lines that shows cell phone reception is poor (originally, where it is poor area),a signal may hard to get in some cases.
・If the antenna is less than 2 (where signal is poor) at your home or work place, not recommend using it.